When I opened a new bank account with Barclays Bank recently, I had no idea of the fun that lay ahead. I love to have fun while working my business and as a self employed work from home mum and grandmum, this is so easy. For most of my working life, I have been self employed and so I set the rules. I enjoy what I do and having fun whilst doing it makes it even nicer. No boss to relate to. No boss to set my hours. I work as and when I want to. I work hard but I also play hard.
Well, on the day I  opened the new account, my new Barclays manager, Wayne Child,  told me about the back to business scheme that Barclays run. The managers are encouraged to go out with a client and spend a day with them in their business. Wayne asked me if I would like to participate in the scheme and I was very keen to take part. When I set the date, I had a client who wanted a video made so thought this might be quite interesting for Wayne to watch. After all, he had told me he didn't want a boring day in the home office. Unfortunately, my client had to postpone my appointment with her but I decided to keep the date with Wayne.
When I set the date, I hadn't realised it was Comic relief day. However, it soon occured to me that this was a day that could be a lot of fun and during the day we could do something funny for money. Why ever not?
I checked with Wayne to see if he was prepared for a fun day and he had absolutely no problem with it – in fact he sounded as though it was right "up his street".
I am, very much a community person and I love to fundraise and encourage my Wightbuzz members to do the same. I spotted an opportunity and ran with it.
I sent out a letter to my Wightbuzz members and was offered raffle prizes. Jade Thornton of Petticoats and Frills offered us a box of red nose cup cakes. She even dressed in red to deliver them to the Wightbuzz office. She was truly embracing the "doing something funny for money" theme.
Michael of the Dorset House, offered us a Sunday lunch for 2
Susan Revell, also a Wightbuzz member, donated a free first aid course and Jayne Read of Island Memories, donated a family ticket for the VE celebrations being held in May. Claire and Ann of Attraction, a lovely gift shop in Cross Street Ryde, donated a jewellery set. I am very grateful to all these ovely people.
With all these lovely prizes, I knew my super Wightbuzz members would be happy to part with their money.
Before my bank manager came to pick me up, I uploaded a video clip to you tube,
My bank manager turned up to pick me up at 9. We needed to decorate the collecting tin and Wayne even obliged with this!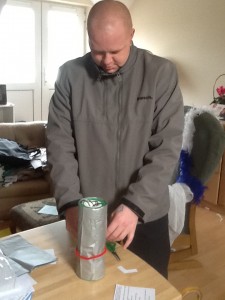 Then, after a quick coffee we were off on the start of our very exciting day. First stop – Jo of Wightcakes
who supplied us with coffee and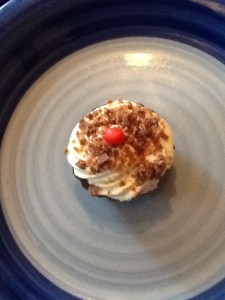 scrummy cake! It was going to be one of THOSE days

We then popped along to Missy J cafe  where Janine insisted on tweaking my nose before parting with her money – well the theme was doing something funny for money!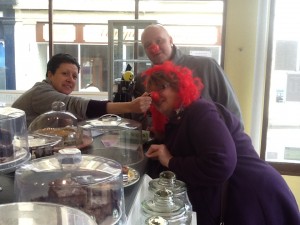 Next stop - Wightsight for a quick laugh and joke with Mandy and Adrian who also bought raffle tickets
then a few doors along to Attraction to see Claire, one of the raffle prize donators.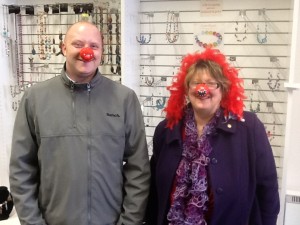 We just HAD to stop at Barclays in Ryde. Well it would be sily not to as I was with my Barclays manager!!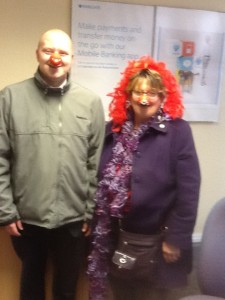 a few more stops in Ryde then we zoomed over to Sandown and to the lovely gift shop Che-Sands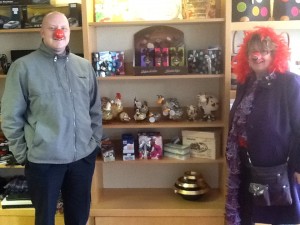 then we popped across to Rapaunui where we also met the lovely Emma from Island Voucher where there was time for a very quick photo call!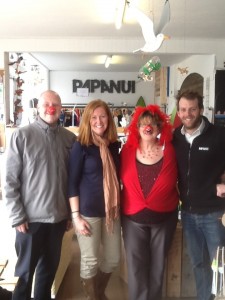 then over to recruit Wendy of Deeva into Wightbuzz before selling her raffle tickets too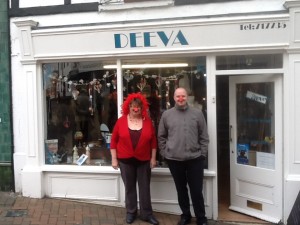 by the time we got to the wightbuzz office we were really beginning to flag but Liz supplied us with coffee to keep us going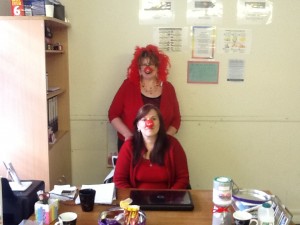 and it was here we stopped to make a couple of video clips about our day.
and
Our final stop was with Julie Jones Evans of Dragonfly i Nodehill – (my fellow shock cash mobber )
We rounded off the day with a lovely sit down and chat with Julie and more coffee and cake!
We had a brilliant day – it was manic, it was fun and we did something funny for money. We raised about £75 for comic relief and my Barclays bank manager and I now know each other much better! It truly was a fun day. (I spent the weekend chilling as I was quite exhausted!!)
I did pop in to see Wayne's boss on Monday to report on what an excellent experience it was! Praise where praise is due. I have had friends, who bank at other banks,  who don't even know if they have a bank manager, let alone know his name!
I made a you tube clip of the day

Do you have stories to relate about your bank manager? Have you had a fun day out with yours? Pop your comments below