Well, when I decided that 2015 was going to be an awesome year, I really meant it and what a start to the new year. My Wightbuzz members recently helped me celebrate  our 4th birthday with an evening full of networking and cake!! (and a lovely buffet supplied by Janine of Missy J Cafe- who kindly hosted our party too.) Photo by Wightbuzz member Graham Reading of Graham Reading Photography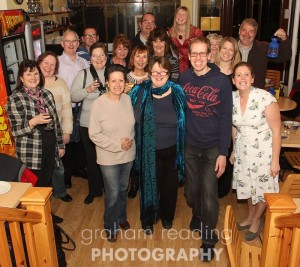 There was more than our birthday to celebrate. Not only had I successfully survived 4 years of networking within my own group Wightbuzz, but I was also celebrating the expansion of the business to become a global network - Allthingsnetworking.com. My son, Tristan,  wanted to help me move the business on and what an exciting time we have ahead of us as we maintain and grow Wightbuzz on the Isle of Wight but take the online networking onto a global level. Together with the expertise of 4 other graduates the scene is set for exciting times ahead.
Last night, I decided to arrange a rather impromptu meet up again in Missy J Cafe this morning. This year, on our list of things to do is lots of video marketing for the group and for the members. What better way to start than include a round up of the brilliant networking day I had with some of my members – making more connections as The Connection Queen (the name given to me by Veronica Pullen – Social Media Queen who also lives on this Royal Island

)
I am thrilled to see joint ventures and collaborations happening within Wightbuzz. It was a vision I had 4 years ago – to Connect lots of the Island businesses for the benefit of all – and finally – it is really starting to come together. I was taught to dream BIG by Roberta Jerram of Roberta Jerram Enterprises years ago when I joined Giant Potential. Very soon, there will be joint ventures on a national and international level. I love what I do and I love why I do it. It is such a hard life (NOT) I love that I have joined forces with my son. The dream is BIG – very BIG!!