Day 4 – 30 day blogging challenge
I have been to many networking groups in my time, and I have to say that some of them have been pretty stiff and starchy. Until recently , I was known as the Networking Guru of the Isle of Wight but more recently , Veronica Pullen, The Social Marketing  Queen also living on the Isle of Wight – gave me the more attractive title of the Connection Queen.
Now anyone who knows me, knows that I like to have fun – a day without laughter is a day wasted.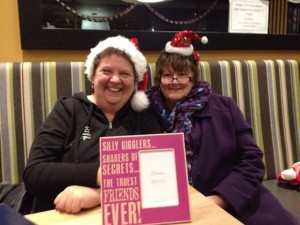 Many will also know me as one half of the Giggly Grannies and together we put the fun into fundraising. Well just like life, networking doesn't have to be serious.
Tonight, I have had another very successful Wightbuzz, networking meeting and it was anything but serious. There was some of the regular crowd and also, along came Paul as a visitor and potential member. I do encourage folk to try before they buy, to make sure we are the right fit. Paul is the Rodfather. He rods drains, unblocks toilets etc! If only I had known him on Boxing day!!! My mum had a houseful and we had an unfortuate blockage. Little did I know the rodfather comes out on bank holidays – didnt even know him – only actualy got chatting last night on facebook.
Well true to form, my lovely members made Paul feel at home immediately. The fun and banter started almost immediately – when I got his business name wrong and called him the Codfather by mistake (we have a local fish and chip shop that go by this name – and the old brain does get overloaded from time to time as Brian or is it George recently found out!! Brian and Sandy recently joined and have still stayed even though  for some reason I called him George!!! I'll just put it down to being a poor old pensioner!! Well that's my excuse and I'm sticking to it. But I digress – and so back to tonight. The whole evening continued with lots of laughs and a great time was had by all. I am aware that my networking group wouldn't suit everyone but we have certainly proved that networking doesn't have to be serious.
It was such fun I decided to make a video to share.
Do you like to have fun networking?