Out with the old and in with the new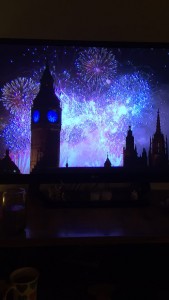 As I saw out 2015 with friends and welcomed in 2016, I reflected on what had been quite a difficult year. I left my church, I also left a voluntary group where I helped to feed the hungry and the homeless and I left my Rotary group. These were not things I had intended to do at the beginning of the year but sadly there are those who thought it wise to try and bully me. Having spent 30 years of my life as a teacher during which time I worked very hard to discourage all bullying, there was no way I was going to succumb to adults  who should have known better – long story short – I removed myself and took my skills with me. In my church I had been holding 6 posts (not something I wanted but posts were not being filled) including social media manager. One of those organisations had others who managed the social media, but the other two didn't and as noone came forward – those facebook pages and twitter streams now lie dormant.
These situations occurred during the early part of the year and as they weren't among my happiest memories, I will not continue further discussion as it will serve no purpose. The only reason I mention them were they happened during 2015. It is so good to see them go – out with the old and in with the new.
On a much happier note, my son Tristan and I have continued to build our business Allthingsnetworking.com For those who don't know, for 5 years I ran Wightbuzz – a networking and business support group and in 2014 my son. Tristan suggested we put our skills together and create a global network group – Allthingsnetworking.com
As with all businesses it hasn't been without it's challenges however, we ran a very successful conference in the UK in September when Tristan flew over to join me.
We had some glowing testimonials and have been asked to run another one. We continued to build the group both on and offline.
I am pleased to say we enter the new year, I am delighted to say we have a string of  new clients wanting to join us . I am having great fun learning all the new social media platforms – periscope, blab and now snapchat and my son amuses himself watching me – at the ripe old age of 65, teaching 20 and 30 years olds all the latest platforms. I love teaching others – it is in my blood! I used to teach little people now I am a business mentor and digital strategist teaching the bigger people. I look forward to 2016 with great excitement as my son and I plan for an awesome year helping our clients to grow their businesses. At a time when most people think of retiring – I can't wait. – I am very much looking forward to out with the old and in with the new . Times they really are achanging – and very much for the better.
This is post 1 of the thirty day blogging challenge.