There has been much debate since the term "Mumpreneur" was included in the English dictionary. Personally, I have no problem with it and in fact embraced it when I was awarded the title Mumpreneur Best Saleswoman 2010 at the Mumpreneur UK Awards
 As the winner was announced, I was enthralled. To be shortlisted was brilliant but to be announced as winner was such an honour. I have since gone on to have mumpreneur put on my business cards. I am very proud to be in this group,  a group of women who juggle business and family life and as such I have connected with many similar women (although in my case – my children are older and I juggle life around grandchildren) I really cant understand why so many get their "knickers in a twist" about the title and was reading a forum thread about it where so many of the contributors were belittling the title,  mumpreneurs! They clearly don't have enough to do themselves!!
Many people really don't get it! Life is tough and even tougher when working from home around a young family. My children are older now so its not quite so tricky for me but I take my hat off to sooooo many women who manage to balance their business around the non stop demands of children. I have connected with so many of these via social media and never cease to be amazed at what so many of them achieve. Well done all of you. Keep going! Ignore those people who have nothing better to do than criticise your title!! You are building a great future for your families and can be very proud of what you do. Don't give up, just because their are critiques who don't like the title!! Basically it identifies us to each other. It has helped me connect with so many lovely women. Quite frankly I can't see what all the nonsense is about.
The mumpreneur community is a fantastic place to belong, Recently, the mumpreneurs swung into action to help fellow mumpreneur Maria Albertsen of Rag Heroes, to help her pitch to Richard Branson for funding. I picked up the story on Wednesday evening. By Thursday noon, Maria had to be in the top 4 in order to pitch to Richard. At this point she was lying in 5th place. Well, whether people like the mumpreneur title or not is really immaterial as this terrific band of mums swung into action and an exciting time followed with Maria clinching her place by just 2 points. To be honest, I am very proud of what the mumpreneurs achieved (I know there where non mumpreneurs voting too – I asked all my friends!!!) but I for one, know Maria is indebted to her fellow mumpreneurs. I watch with interest as she has now been shortlisted in The Pitch I am truly looking forward to meeting Maria at the Mumpreneur Awards 2012 where she too has been shortlisted. I am also looking forward to receiving my own very special Rag Hero – Pictures will of course follow and probably a video clip too.
Since winning the mumpreneur title, I have used the publicity to set up and grow Wightbuzz, a network for the small businesses on the Isle of Wight - Wightbuzz has gone from strength to strength and helped nearly 200 people to grow their businesses. If this is what being a mumpreneur is about then how can that be a bad thing?
I am looking forward to attending the Mumpreneur 2012 awards, where I am delighted to be supporting one of my Wightbuzz members, Sharon Lake,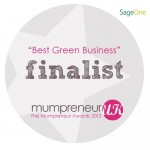 of Naturally Wight (already an award winner) who has been shortlisted for an award. I for one, am very proud to be a mumpreneur!!!