30 day blog challenge post 3. Can you afford not to?
I have run a low cost networking group Wightbuzz for businesses on the Isle of Wight for 4 years.
Now in its fifth year, I have linked with my son and his graduate friends to add to the local brand. We have created Allthingsnetworking.com to take our brand to a global level. As we start expanding, I have been reflecting on the past. I have been very mindful of making sure my group was affordable. Some people pay a years money up front without batting an eyelid. Others haven't joined because they say they can't afford it. I find this very interesting. Many of those who say they can't afford it will happily  have coffee in local coffee shops that are part of national chains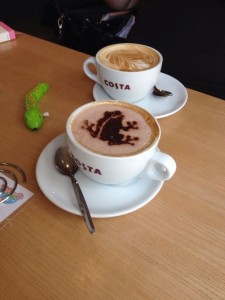 They think nothing of paying £3 per cup and some of them will do this several times a week – I know I have seen them (social media reveals much) I wonder why then, do they not see the value of business mentoring, networking sessions, one to ones, social media training, ferry discounts, loan of business books, plus much more as excellent value at £12.50 per month? The equivalent of just over 4 coffees a month.  It is clearly down to mindset. If they are running a business what about a marketing budget? I'm hard pushed to think of any other marketing they could get for this price (and they get me too!!) It is all about return on investment. Surely, if they gave it careful thought, they would realise that if they invested in putting in time to interact with members either in our online group or in person at meetings, took advantage of the business book loan system, or the ferry discounts etc. they couldn't fail to benefit their business. I think I will add to my video trainings with a video about mindset.
I have to admit that recently, I was almost guilty of this (as I was in my early business days) There was a black tie, business to business event, recently with quite a high ticket price. I decided I couldn't afford to go but after a little more careful thought, I realised I couldn't afford NOT to go. I run a business networking group! All the attendees were connected to/ran local businesses – sheer madness not to be there. One of my members was also on the short list for an award so it was important to offer support. That was it, my mind was made up. I purchased my ticket (after a slight panic when the system told me no tickets left!! – I emailed to go on the reserve list and was rung next day – system was not correct  –  phewie!!)
I am so glad I went. My son, who works with me now (albeit from the other side of the world) asked me to trial an app which would actually put our skills in front of the attendees via the displayed twitter feed . We dominated the feed all night and it was noticed.  Result!
Suffice it to say, I am now in follow up conversations with several people who I met that night. There is much interest in Wightbuzz and our social media skills. The results will generate far more than the ticket price. I'll make sure they do. So what do you think? Can you afford not to?