The other day, my Giggly Granny friend, Julie Jordan and I were reminiscing and trying to work out when we met each other. We were introduced by a mutual friend and fellow church goer, Helen WIlks and am I glad she made that introduction. I have shared so many giggles with Julie since and been very proud to be her friend. She is a total inspiration to me and although her health is not the best, she continually puts others first and sticks by her motto of "Leave them laughing"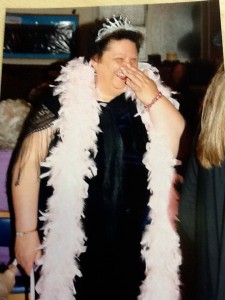 She certainly leaves me laughing often so much so that sometimes I nearly have to stop the car.
One of those early memories of giggling with Julie was at Ryde Methodist Church when Julie and I attended one of the international evenings put on by Ruth Realey and her team of helpers (all church members) . They always provide a magnificent spread and suitable entertainment. This time it was a night at the Oscars and Julie and I went complete with feather bowers and tiaras. We won the quiz (you would expect nothing else with Julie, the quiz queen as a member of our team) My lovely friend, Paula Pomeroy was over from Kent and was enchanted to meet Julie.
Julie made an brilliant Oscar winning speech. She really stepped up to the part and from then on we have giggled all the way!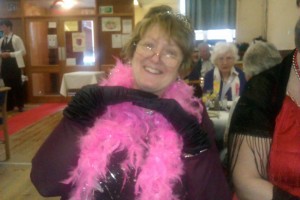 We have dressed up and probably dressed down., We have supported each other through some tough times but most of all we have giggled. We now have a facebook page and a twitter feed (@gigglygrannies)  and we have many giggly granny you tube clips. (found on the Lyn Blackledge Channel) Unfortunately the camera froze as Julie was making her acceptance speech but she has made up for it since.
This is part one of our story – there is much more to tell but this is just the beginning so watch this space…………..part two is coming tomorrow.