Bank holiday and its time to knit and chill
I don't know about you but as it is a Bank Holiday here in the UK, I am going to knit and chill. I find knitting very therapeutic. I totally relax when I have those knitting needles click-clacking away in my hands. I am not big into knitting cardigans and big garments. I just love creating smaller fun things.
One of my commissions was for some little pink bras to be hung as bunting in a shop window that was fundraising for a breast cancer awareness charity. It certainly raised a smile as well as lots of much-needed funds.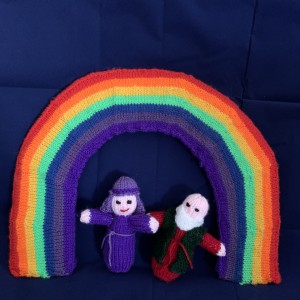 The rainbow and Mr & Mrs Noah are part of the Noahs ark – a present I have chosen to knit for my youngest grandaughter. As an ex-primary school teacher, I absolutely love using primary colours. I am using Sarah Keen's books Knitted Noahs Ark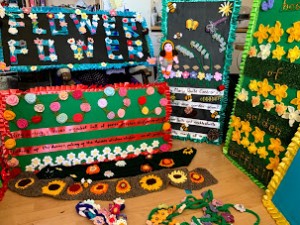 Recently, The #Golivegranny community took part in the Sandown Yarn bombing to brighten up the town. Sandown was entered in Britain in Bloom and Jackie, who set up the Sandown Yarnbombers appealed for knitters to partake. I shared the news into my 10 pm broadcasts and flowers started arriving by the box full. It was a bit like Interflora on steroids. My community never disappoint. My job was to create beautiful display boards as well as making some flowers myself. My community never pass up the opportunity to knit.
I knitted Mary Mary Quite Contrary and her silver bells and cockle shells and was able to add a few beautiful flowers from #golivegranny community member Carol Potts.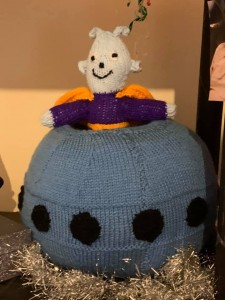 Another project my viewers have embraced was something my daughter asked for help with. She has recently started working in a school serving some very deprived children – children who don't own any books and there are no books in their homes. She asked me if I would make some finger puppets to aid their learning. Again I shared it with the community in my broadcasts and the result is many story sacks containing props to help illustrate the stories and rhymes. The spaceship is for the song :_
5 little men in a flying saucer
Flew round the world one day
They look left and right
But they didn't like the sight
So one man flew away
4 little men in a flying saucer etc
It was one of the bigger slightly bigger things I chose to knit
They have also supplied aliens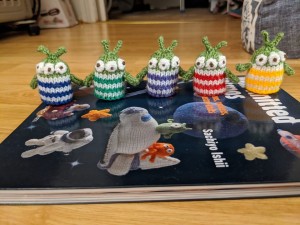 taken from the Mini Knitted Cosmos
We are very lucky as many people gift us wool and needles for our projects – most of which go on to various charities.
My viewers love to learn about all things knitting and so I decided to become an affiliate for some of the knitting businesses.
Deramores is a popular site and offers a range of yarns as well as patterns and needles and hooks and accessories You can also get 15% off your first order
The Knitting Network is another site popular with knitters.

It is always worth checking out to stay up to date with current trends and offers. There are some great value packs worth investigating.
It has been a very long time since I updated this blog but as it is Bank holiday I am now off to knit and chill.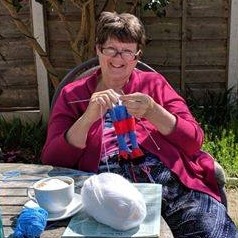 This post contains some affiliate links. This means I will receive a small commission but the purchaser will not pay any more for their goodies. The purpose of the commission is to purchase more items to entertain the #golivegranny community via the broadcasts be it in the #golivegranny community garden or from the #golivegranny studio. My mission is to inspire, educate and entertain. Have a great day and if you have enjoyed this then please share. #sharingiscaring